Children and stains. No matter how "careful" (I'm not careful at all) you are, spots still manage to sneak in and place themselves permanently on almost-new clothes. They're like an inevitability, lol... Anyway, to avoid being wasteful, I thought I'd just cover up those stains with something. So far, I've tried appliqués, embroidery and dyeing and they all worked. My most recent project involved appliqués. Marguerite has this cute Tshirt with wings on the back that she loves (it's not new, but she's not done with it yet... naturally, she pretends to fly whenever she wears it) and it has several gray spatters on it. I'm not the neatest person out there, but I do prefer that my daughter not wear stained clothes (doesn't mean I don't let her wear stained clothes because I totally do-- at home).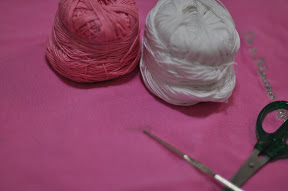 The crochet hook is actually pointing at a stain. I'm not sure if you could see that.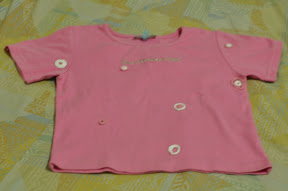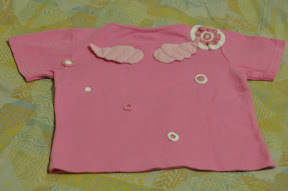 Chip thinks I should have added turquoise, but I'll try it simple this time. It's easy enough to just add more if it doesn't work, lol.