So this is how we celebrated St. Patrick's Day in our home school. We wore green (Marguerite's also wearing the new green ring from Tita Christine). Marguerite and I made a sign (she colored the shamrocks) and a shamrock button (Marguerite smeared it with sparkly green glue, but you can't see it in the pictures I took with my phone, go figure, lol).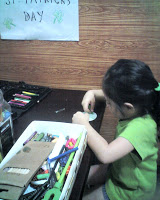 We also made Colcannon (we used cabbage, M helped with the potato mashing and the pepper grinding).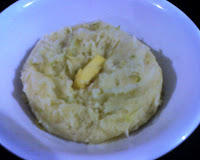 We watched some river dancing and tried to copy, but, uh, I found myself too heavy. Marguerite got a kick out of it though. She was getting wild at that time though, so close to nap time. I tried telling her about Finn McCool, but she kept confusing the story with Glee, so I gave up. Come to think of it, both Finns are giants, lol.