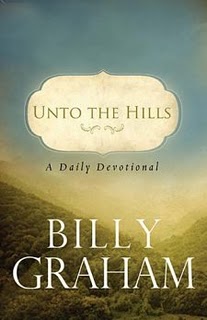 First published 25 years ago, Dr. Billy Graham's 366-day (a provision has been made for February 29th) daily devotional is brought back into print by Thomas Nelson. Each daily reading comes with a Biblical passage (no need to look it up in your Bible), a brief, but insightful discussion of its message, and a closing prayer. "Unto the Hills" is an example of a classic devotional that elicits quiet moments of reflection, inspiration and genuine conversation with God.
"Unto the Hills" being a devotional, each reading has to deliver a sufficient explanation of a thought without going into lengthy elaborations. Dr. Graham manages to do just that while using simple language and easy to understand illustrations. The anecdotes are very fitting and are presented in aid of elucidation. It is easy to see how each reading may offer enlightenment, motivation, encouragement, reminder, comfort, etc., appealing to readers as how God moves and responds to individual needs. I also really enjoyed reading the Foreword, which expounds on the reason behind the title of the book. It touches on a sentiment shared by Christians around the world with regard to the "mountaintop experience".
The book cover has an attractive matte look and feel, the picture on it offering the right mood and imagery. However, the print may be considered on the small side by some readers.
Overall, "Unto the Hills" is a fine daily devotional, another piece of literary legacy from the beloved Dr. Graham.
(Disclaimer: As a blogger I received a free review copy of this book from Booksneeze. The opinions expressed are entirely my own.)