Over the weekend... (pics taken with my phone because the camera was with Mark a couple of yards away - I couldn't just ask for the camera. The things I consider a hassle!)
First, I found another ballet school for Marguerite. I warned them that she was very typically 3-yr-old and they said that they were fine with that. Here's Marguerite with Teacher Love on what ended up to be a one-on-one session (the two other girls didn't show up):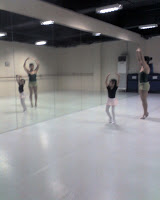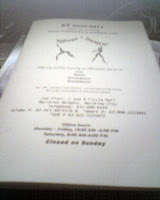 Mark took us out to eat at Banapple, but not before we had to tag along to various car and electric guitar places (ho-hum). Marguerite loved the marble mosaic top of the tables. Banapple is a very cozy place, just the kind of restaurant you'd want to be holed up in while it's pouring buckets outside, which it was...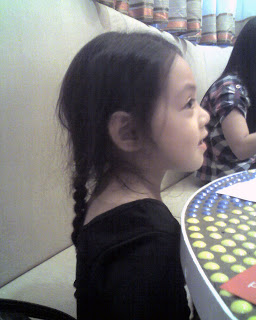 Sunday, there was the service, of course. Between that and the afternoon fellowship, I checked my yahoo inbox (something I do very sporadically, hence the amount of unread mail - it's digests upon digests from various egroups - homeschooling, crunchy parenting, herb gardening...) and look at this cowinkydink: the number of unread mail read 777, which is supposedly God's number. No, it doesn't mean anything. Otherwise, I'd have to take coincidences with 666 seriously too.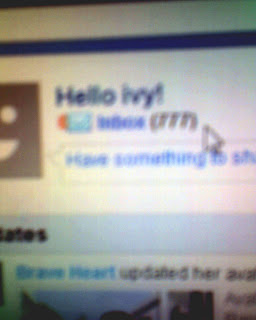 Our age bracket's afternoon fellowship had a paper tearing collage activity (very arts and crafts, except we didn't do it with our children, lol, and we thought we'd usurp the kids' department's space as well, while we're at it - we said we'd graciously donate our work to the walls of the Kids' Place, but basically we just needed a place to display our handiwork, lol). Most of the works featured verses and inspirational quotes, but somebody whose kid's name is Midge is clearly a deviant and made this (took me hours!)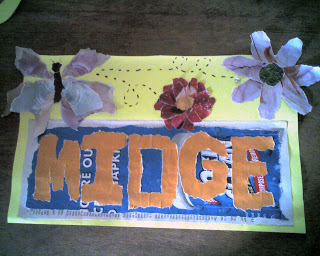 My friend Maf also gave me this paperweight. Incidentally, the last picture of our project is also from her phone that's why it's clearer. Anyway, she saw the lighthouses in a magazine and knowing I'm gaga about them, she got the image and decoupaged it on this rock. I love it! It's now part of my collection.