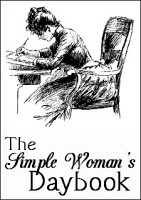 (The Simple Woman's Daybook)
For This Week...
Outside my Window
...
grayish clouds, but with a line of orange in the horizon; flocks of trained pigeons flying past every so often; sparrows resting on my balcony ledge

I am thinking...

of activities for Marguerite this week

I am thankful for... the life testimonies I heard last night (it was our evangelistic night at our church)

From the kitchen... just french toast (Husband was excited to make breakfast today for some reason, but he's still sleeping, so...)

I am creating... homemade fingerpaint (one of the activities involve fingerpainting, I guess, lol)

I am wearing... a ratty brown shift

I am reading... Seedfolks by Paul Fleischman

I am hoping... to accomplish a few things from my writing list this week

I am hearing... the elevator pinging every five seconds or so (time for most people to get to work)

Around the house... three weeks worth of laundered clothes still to be put in closets. I have no excuse.

One of my favorite things... a lighthouse tealight/votive holder that my mother gave me several birthdays ago

A Few Plans For The Rest Of The Week... paint toddler bed, sand and varnish vintage medicine cabinet, write a couple of stories, try out new activities with Marguerite

Here is a picture thought I am sharing with you...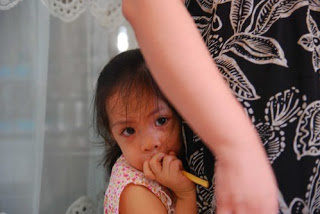 Please. She is not shy or bashful or any other label. We don't approve of labels.