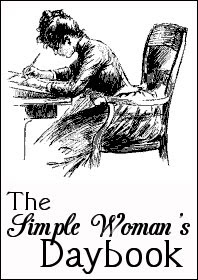 The Simple Woman's Daybook

For This Week...
Outside my Window

... cloudy skies, no rain, but dense enough to block the sunset. I live on the seventh floor of an apartment building now and with the door to the balcony wide open, I have a pretty great view.
I am thinking

... about WAHM options and starting dinner
I am thankful for

... the healing and this new adventure, a new opportunity to test my faith

From the kitchen

... some left-over soup (will be making tofu stir-fry with corn and broccoli in a bit)

I am creating

... a home out of this box

I am wearing

... rubber ducky boxers and a lavender tank top

I am reading

... Checklist for Life for Women

I am hoping

... to find a replacement for my old regular writing gig

I am hearing

... typical building noises

Around the house

... Marguerite's toys and general lived-in disarray

One of my favorite things

... the Chestnut Creek 12 Teas of Christmas set (my aunt sends me one every year)
A Few Plans For The Rest Of The Week

... get in touch with childcare experts (for three of the articles I'm writing), continue with the toilet training (my daughter's, not mine, lol), try out other writing options...

Here is a picture thought I am sharing with you

...