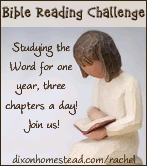 I'm participating in a Bible reading challenge hosted by a very inspiring young lady (that's you, Rachel;-)). Anybody who's interested in joining can find the
rules here.
When Marguerite was still an infant, I used to read a chapter of the book of Psalms to her in the early morning (classical poetry at night - I think I got this idea from "A Tree Grows in Brooklyn", lol, but anybody with a good foundation in literature is expected to be familiar with the Bible and Shakespeare). I think when she started getting more mobile and grabbing at the flimsy pages, I stopped. I have to remember all the ideals I had as a brand new mother (even our Spanish hour is so sporadic, I'm sure she learns more words from Dora than me and she doesn't even watch Dora!). I definitely want her to form her own devotion system as she grows up and I want to find a way to do it that motivates and encourages instead of forcing her into a habit. How did I end up talking about this?
Anyway, I'm actually following several online devotionals (plus doing a frequent perusal of Sue Buchanan's Duh-votions) and I told Rachel I'd simply incorporate the three chapters-a-day into my current system. Today's text was about the faith and mustard seed analogy in Luke chapter 17 (v.6

"
If you had faith the size of a mustard seed, you could say to this mulberry tree, 'Be uprooted and planted in the sea', and it would obey you."

) However, as I moved back into bed to read the entire chapter plus two others, my mind did a neat little trick and switched from Luke to Matthew in my memory, so I ended up reading Matthew chapters 17-19. I didn't even notice as there's also a mustard seed faith in Matt. 17 (v. 20

"...Because of your unbelief

(as to why the disciples couldn't cast the demons in the epileptic child out)

; for assuredly, I say to you, if you have faith as a mustard seed, you will say to this mountain, 'Move from here to there,' and it will move; and nothing will be impossible for you."

How very uncanny, I thought when I'd found out about my mistake. Anyway, it's definitely a welcome mistake as so many things from the chapters I read today are incredibly fitting in my life right now. You know how the Word of God is like a double-edged sword? It can very well be like those target missiles that unrelentingly follow their, well,

targets

. I mean, you can run and dodge all you want, but it always finds you and the message gets delivered.
The following are some of the lessons that I was reminded of today:
Matt. 17
v 21 - the beauty behind prayer and fasting
Matt. 18
v. 3,4 - being as children, humbling myself
v. 6-9 - the gravity of causing others and myself to sin
v. 15-17 - dealing with an erring fellow Christian (thus avoiding the tendency to gossip)
v. 21-35 - Parable of the Unforgiving Servant (ouch, aimed right at yours truly and my tendency to nurse anger and grudges)
Matt. 19
v. 21 - how to esteem earthly possessions
v. 26 - "...with God all things are possible"