Last Saturday was interesting. It was the day of our church's first ever summer yard sale. We've always held a yard sale every December for almost two decades now, but this year, we're shooting for two events.
My daughter was also supposed to have drawing and painting classes in the morning, but both were canceled. It was marked in the theater (venue) calendar, too. My bad for not checking the thing out, but the teachers should definitely have informed their classes. Most of the students showed up. What a way to desecrate a Saturday morning, lol. We could have had a more "chill" start to the day. And for us homeschoolers not used to the morning prep rush, that was probably even more annoying.
We spent most of the day at church, where I spotted several of my books being sold. I had left them at my parents' house in my old room, which has been turned into the new kitchen. I had a brief struggle over that because I never sell my own books. I'd sell those that I'd bought for the express purpose of selling, but never books in my own collection. In the end, I was okay with letting them go. It was just my natural impulse to cling.
I also spotted a Betty Neels book that I missed when I was rounding the lot of them up from my mom's collection, so I had to go buy it from the yard sale. I didn't mind. The money goes to the church, and it was all of ten pesos, lol. Betty Neels is a fave of mine from my mom's romance paperback era, her and Essie Summers.
I was shocked to see my dad's fishing rods though. I'd been counting on borrowing them when I finally went fishing. They used to be his stepfather's, something Dad held onto for twenty years, but I guess my folks are serious about de-cluttering these days. I whined at my husband to buy the rods, but he sensibly pointed out, "When do we ever go fishing?" He's obviously not the hoarder in the family. I want those rods though. They're totally useful for the lifestyle we have in my head.
After the yard sale, we headed up to Timberland in the mountains of San Mateo for some birding and view-binging. We saw the usual maya (Eurasian Tree Sparrow), a couple of pied fan tails, a crested mynah, and this guy, a lifer (first sighting ever of this kind of bird) for us.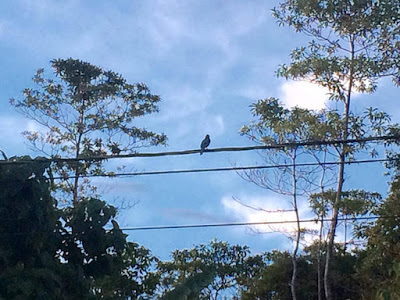 You can't see it, but the back is a layer of brilliant blue and black.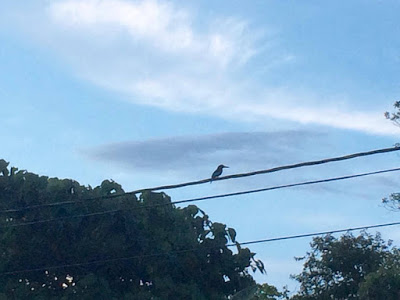 That's his profile, so definitely a kingfisher. According to my pocket guide, it's a brown-breasted kingfisher.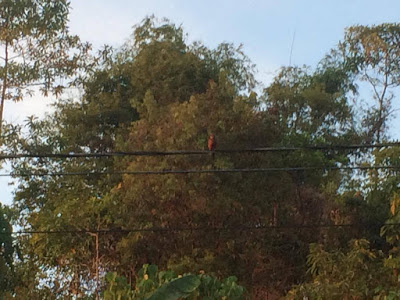 That's his front. It could be orange, red, or brown, but the sunset made it seem fiery red to our eyes.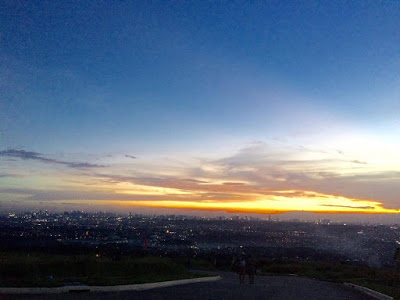 Here's a view. I wish I lived here, but there's no Internet connection yet for homes. And it's far. And expensive, so I'll just keep on being a (Marikina) valley girl.