We're artsy-fartsy in this family. The girls are artsy, and the boys are fartsy. JUST KIDDING! We really do like art, and not just pretend to.

Marguerite had a fun month learning drawing and painting at the city's summer art workshop. Every Tuesday, Thursday, and Saturday, we'd drop off the boys at my mom's and then Mark would drop Marguerite and me off at the theater, the venue of the workshop.
My family wasn't used to the pace. We're home-based, school-wise and work-wise, so rushing in the morning was definitely something different for us. It was worth it though since both my daughter and I made new friends and she really learned a lot.
Marguerite has always been interested in art and we sign her up when we come across good opportunities for lessons. We jumped at the chance when my cousin Jaymee, who works in the city's tourism office, told us about this one.
I got to observe most of the classes, and I noted that many in the drawing class (basically most of the boys and one girl: my daughter) were all about manga (Japanese comic art). The teacher insisted that they learn the proper basic style of drawing people, and they followed his instructions. Until it was time for free drawing and they all went back to drawing manga-style pictures. In Marguerite's case, she also frequently draws in chibi (Japanese slang for short person) form, which is even less realistic-looking, but, you know, it's all cute, er, kawaii, sorry, which is really appealing to young girls. Her favorite character to draw is Vocaloid's Hatsune Miku.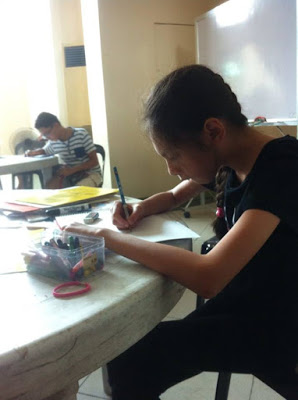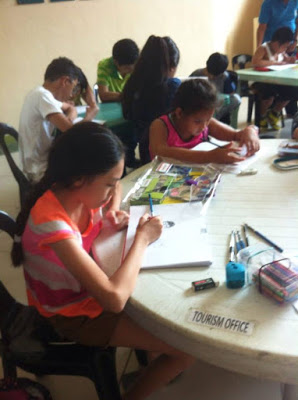 Meanwhile, in painting, the class did a still life with fruits, a still life with furniture, a portrait of their favorite character, and a landscape/seascape. Marguerite ended up doing the landscape at home since she missed the make-up class. I asked her if she wanted to paint one of the pictures from my lighthouse coffee book (a gift from my friend Maf) or copy a painting from my Thomas Kinkade book. She saw a picture with pink trees painted by Thomas Kinkade, thought they were cherry blossom (according to the title of the painting, they were actually dogwood), and since she's obsessed with Japan, chose to copy that.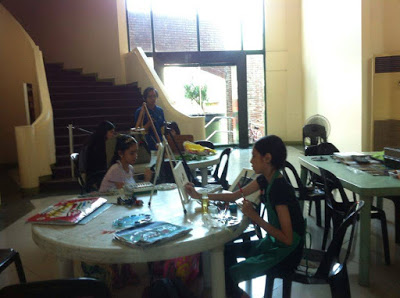 She got a lot of compliments on that painting. I know some people thought she got help, but that was purely her work. Not to diminish her effort, because it was really quite good, but it would put suspicious minds to rest to consider the original. As for the color mixing, that has just always been something that she has an aptitude for. Her art teachers have frequently complimented her eye for color, so... that's enough being defensive.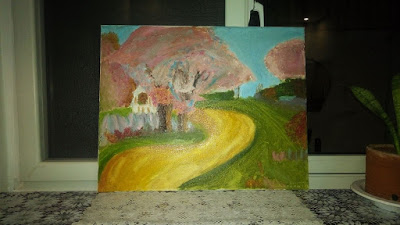 My mom, ever the proud grandma, has asked for this painting. She's going to have it professionally framed to be able to show it off on the wall, but for now, it sits on top of the piano.
Now that we've invested in a bunch of art supplies, I think we'll continue lessons. Since I'm cheap, I mean the Internet, particularly YouTube, when I say lessons. That is, until another good deal comes along.