Don't expect the title to have some serious or deep significance. I was trying to think of a title, said "blogging vlogging" out loud and segued to "She's just a woman!" :D
I haven't been blogging lately and I will point the finger at the baby (He's two! But as you know, the youngest will always be referred to as the baby until he raises a fuss about it.) and rightly so because the main reason it was so hard to blog is that he had finally succeeded in his wicked attempt to pick off all the keys of my laptop keyboard. It was a losing battle. As soon as I'd replaced the keys, off they went again. I finally just asked Mark to let me use his old USB keyboard.
I blogged about corn dip on Our Lemonade Days and there was supposed to be a follow-up post, but it occurred to me that nobody's that interested in corn dip - not even me, so, yeah, that second post's not happening. I did make a second batch following a more common recipe, but I soon realized that the only difference was in the fact that I used diced tomatoes and not tomato sauce. There was no noticeable difference in flavor. Here's a pic of the second batch and then I'm done talking about corn dip for now. Honestly, it's tasty, but I'd probably order good ol' salsa con queso y carne if I had to choose.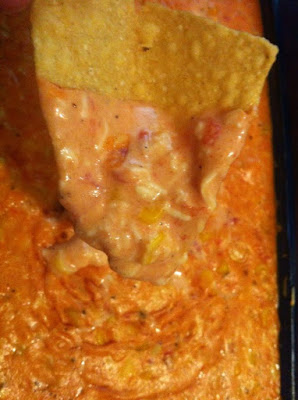 We've been back to
Palaya
, btw, and we plan to return on the next market day. Last time, Mark and Midge lost a flipflop each in the river. The day started off rainy so it was pretty foggy in Tanay, but it fortunately cleared up in the afternoon. I bought a few herbs and pepper plants. The only one that failed to survive was the cilantro. I've never been able to make that plant live. Any tips?
We also participated in a multi-family "garage" sale held by the Antipolo Homeschool Group to help raise funds for a fellow homeschooler who recently fell gravely ill with meningoencephalitis. Praise God that the little boy is now on the mend.
Midge attended a pottery workshop, which I thought she'd enjoy, considering her penchant for salt dough. She has been working a lot with it, making tiny toys for her collection of LPS, Shopkins, etc. We don't have the saucer and whatnots she made in class as they are still to be fired, painted, and glazed by the teacher, but we're excited to see what they'll all look like when they're finished.
I actually managed to capture a few videos from these events, and Midge was able to put them together to create a vlog episode. I'm afraid the video clips are grainy since I used my phone to take them. I swear I'll get around to using a better camera. In the meantime, please watch this video and like it if you're so inclined. While you're at it, please subscribe to our channel as well. :)