We just got back from church camp in Pansol, Laguna. It was a fab time, although I wish I could have participated more. Naturally, Mark and I had to spend most of our time minding the boys. Midge no longer needs a lot of supervision, so she was free to go off and do her thing. Apparently, her thing was to boil herself in hot spring water under the relentless Holy Week sun (the sun has always seemed like the most severe to me during this time of the year) and she's now the color of teak for her efforts. She also got a little overtired and overheated, so she ran a temperature when we got home.
Cameron was also a fan of playing in the water (Sawyer hated it with, aptly enough, the heat of a thousand suns), but he has very sensitive skin and he itched something fierce after getting out of the water. He also developed an infection on one of his big toes.
So, with the state Midge and Cameron were in, we had to miss the Easter service at our church. We still wanted to celebrate Easter though, so I gave them their Easter basket in bed and organized an egg hunt within the bedroom.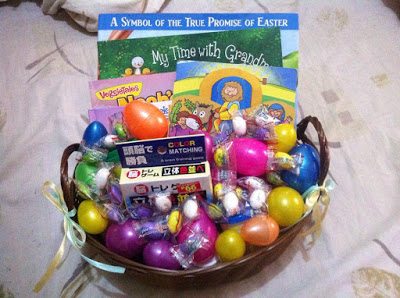 The basket I put together was a blend of religion and fun. I got them five books, all Bible-based with two specifically about Easter. I was really happy with that Book Sale (secondhand bookshop) haul. I was hoping for just one Easter book and actually found two. Every book I got was also in great condition, like new. The Veggie Tales (anyone else bust their gut laughing watching Veggie Tales?) one even came with a CD, also seemingly unused.
Besides the books, I also included a play dough set, that connect-four-bingo-game thing that every kid has at one point during childhood but we didn't have yet (rite of passage!), plastic Easter eggs that we can reuse (I finally gave away last year the ones I had gotten for Midge when she was but a toddler, so I had to get new ones this year), and candy-coated chocolate eggs.
After the initial egg hunt and rooting-through-the-basket commotion, I read one of the Easter books to the kids and then let them leaf through the other books by themselves and play with the game and the eggs. We also decided to finally eat the Easter eggs we made last week.
That's how Easter Sunday this year went for us. I wish we had been able to make it to church, but it was what it was.