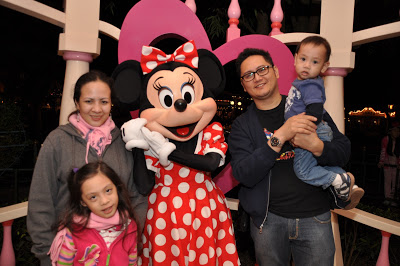 And here are the Hong Kong pictures... We were there early this month. We were so excited. Mark loves Hong Kong. And when I'm not hating it, I really love to travel. So we thought we'd start the habit with the kids. We thought we wouldn't take those tour packages because the itinerary would be too tiring for the kids. Also, we have people who don't really function all that well before 1pm, so... So, package tour or not, travel with kids? EXHAUSTING.
We start at the HK International Airport - got the early flight because we were only there 4 days, so we thought we'd start the 1st day early and end the last day late. Brilliant reasoning for people who have high levels of energy -- not Mark and Ivy. Ivy can start insanely early, but is barely functional by 6pm. Mark is on zombie-mode until about noon and can go strong until about 4am. I tried adjusting to that schedule, but my conditioning made me feel less worthy as a human being... Conditioning, people.
So. whatever. We got to the hotel and spent the rest of the day resting. Mark can sleep anytime. He can take a 3-hr nap about 30 mins after sleeping for 16 hours straight. , I was tired from the early morning flight and then the train ride and then the walk from the MTR station to the hotel... I zonked out as soon as we checked in. Mark got food and napped as well. We all slept until about 9:30pm (so great plan, that - start early to optimize first day...) and felt refreshed so we thought we'd go for a stroll around the neighborhood. Had a late dinner and then went up to the roof deck bar (not for drinks - we totally wasted our coupons) for the view. Marguerite wasn't happy about being there. She's very afraid of heights, but I know she tries to conquer the fear every now and then.
The following day, we hit Disneyland. Marguerite only cared about meeting the characters, but she did like some of the rides. Of course, nobody's a fan of standing in long lines, even with the fast pass. Cameron obviously could take it or leave it (babies are so cool), but he did poop there, so maybe he also feels a little territorial. It was fun, magical for little kids... but we're probably not going back for another 5 years. They'll appreciate it more then. As usual, we were exhausted.
We went to this mall where the Apple store was, but there were insanely long lines and you had to place an order in advance and I think only HK residents were allowed to do so -- or whatever. Somebody else clearly cared more about that. We rode the ferry, ended up on Tsim Sha Tsui where all the high-end stores were. There were also lines of people waiting to go in. I guess they only allowed a certain number of shoppers at a time. Didn't care about that either. Had lunch. Ended up at Elements -- another place with lots of designer stores. Tried to take a cab to our hotel (exhausted yet again), but forget that, line was also long... Got back to the hotel; kids and I napped, totally beat, while Mark left us to go traipsing around the city, still completely pumped.
We finally did the Mongkok market. I could have done without that, but I suppose it was requisite. We had ourselves shuttled to the Kowloon station after and got ready to take the flight home. We have more pictures on our phones, but I'll have to wait another day to upload those. I'm exhausted.