Don't you just love dangling prepositions
? Anyway...
People who've seen Cameron say that he looks like his Ate. I seem to be capable of making only one kind of baby: THE BEAUTIFUL KIND, hee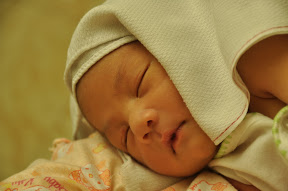 Marguerite, about a month old Cameron, a newborn
Too bad I can't find a picture of Cameron doing that exact Angelina Jolie mouth purse. And, yes, I have to admit I frequently call him Midge. I suppose that's normal.