"The Blessing" is a wonderful guidebook written by Dr. John Trent and Gary Smalley on giving the gift of "the blessing" not only to your children, but to anybody you have a relationship with. The book has recently been revised, updated and enhanced, frequently referring to further material one can find online. It is a very understandable and effective blend of biblical principles, psychology, and practical advice.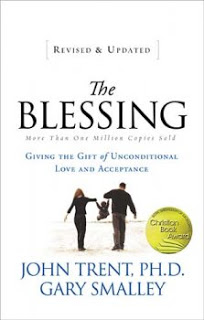 The book provides numerous illustrations and true cases, which make reading it extra fascinating and engaging. Of course, the theology and the psychology aspects are solid, but presented in a way that can easily be understood by any reader. The instructions are clear and the tips very practical. The concept of "the blessing" is thoroughly discussed. Every part of it is covered, especially the five essential elements. It tells you what to do as a parent who wants to make sure that your children do receive the blessing. It tells you how to bless the people around you. It also tells you what to do if you're one of the many people who've missed out on the blessing.
I actually started out thinking that the book didn't really offer anything I hadn't read before in other parenting books and articles, but I was wrong. It is a package of motivation, hope, inspiration and practical guidance. "The Blessing" is, in fact, truly a blessing.
(Disclaimer: As a blogger I received a free review copy of this book from Booksneeze. The opinions expressed are entirely my own.)