Had my baby shower last Saturday. Thanks to my mom and my sister who hosted the event. Thanks to our churchmates and friends who made it. It was really fun. Still extremely busy, so I'll just post a couple of pictures...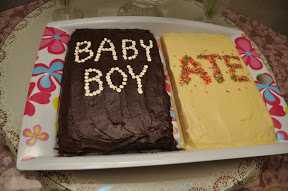 cakes I baked in honor both of the baby and his big sister ("Ate" is big sister in Tagalog)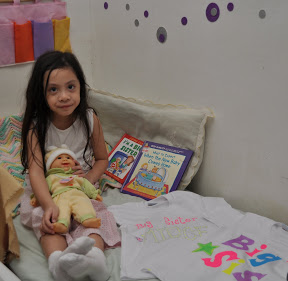 Marguerite's loot from the party (all from Mark and myself - two books, one about being a big sister and the other one about what to expect when the baby gets here; two hand-painted "big sister" shirts; and a baby doll to practice on, sling - also homemade - to follow)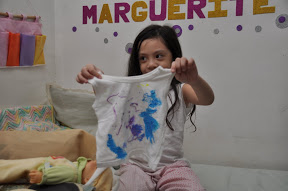 Not to be outdone, Marguerite hand-painted one of her old baby singlets(?) that are to be handed down to her brother... maybe I'll let the baby wear it once and then it's going in his scrapbook...
You can probably tell from the pics that Marguerite needs bumpers for her bed. As usual, I'm feeling all DIY about it... but I'm also in the process of making cloth diapers for the baby... I'm not the fastest or most efficient sewing person out there... If in a fortnight's time, those bumpers aren't ready yet, I guess we're buying (when did "buy" become such a dirty word for me?), lol