I'd like to thank Czaroma of A Woman Remembers and Silvergirl of Live for Life for the Beautiful Blogger Award and Chin Chin of Stay-at-home Blessings
for the Sunshine Award.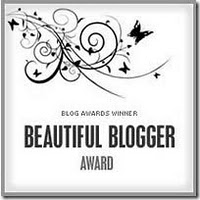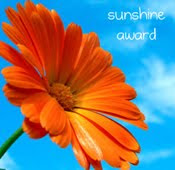 Beautiful Blogger Award Rules:
1. Thank and link to the person who gave you the award.
2. Pass this award onto 15 bloggers you've recently discovered and think are fantastic.
3. Contact said Blogs and let them know they've won.
4. State 7 things about yourself.
1. Put the logo on your blog or within your post.
2. Pass the award on to 12 bloggers. (I'm making mine 15 so all the bloggers I'm passing these to will get both awards. If you gave me one of the awards, pls receive the other one, lol)
3. Link the nominees within your post.
4. Let the nominees know they have received this award by commenting on their blog.
5. Share the love and link to the person from whom you received this award.
7 Things about Me (very random):
- I'm a Francophile. Love the language, the food, the places, the ambience…
- I have a thing for dandelions. In the States, I loved going out in the yard and looking for them. One time I saw some in Baguio and practically flipped out of my mind. I like to blow on them and see if the number of blows coincides with the actual time. Got this from Enid Blyton's "Thirteen O'Clock".
- I'm a huge dork. In school, I submitted stuff way before the deadline. I didn't go around asking what other people's scores were, but I did moan a lot about doing badly in a test when I didn't.
- I'm a trivia nut. I love watching Jeopardy and playing Trivial Pursuit. What is, This is just a reinforcement of the above statement?
- I love stinky, moldy cheese.
- I sometimes lisp, but that's from language shift confusion (Spanish, English, Filipino). I don't realithe that I'm doing it until somebody points it out, lol.
- I think fungi are cool - certain kinds anyway, lol. I have dreams of going hunting for morels and truffles.
I pass these awards to: Sharkbytes, Bambie, Vera, Dave, Mom to the Power of 3, Annika, ChinChin, Czaroma, Grace, Teacher Mom's Corner, Silvergirl, LadyJava, Moonchild, Eva, Jade.
Updated: Mean of All About Me also gave me the Beautiful Blogger Award, so in turn, I'm also passing on to her the Sunshine Award. :)