While Start! (Thomas Nelson Publishers) would pass as a pretty good study Bible for new believers with the book introductions and the notes scattered throughout the content, it is mostly designed to be a daily reading Bible. This Bible comes with additional features such as several helpful articles on the Plan of Salvation, Greg Laurie's Secrets to Spiritual Success, the "essentials" (both basic and in-depth knowledge about God), etc. Each book is also prefaced with an introduction, providing background and insight on the succeeding content. The book itself is pocked with mini-articles labeled GROW (key disciplines of the Christian life), KNOW (core beliefs of Christians), LIVE (various aspects of salvation) and LEARN (short commentaries for spiritual growth). There is also a topical index to help you easily find verses you are looking for. About ten leaves are also allotted to notes the reader may want to make.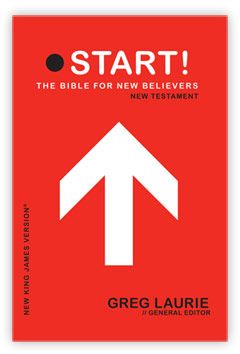 My review of Start! is generally favorable. I think it is easy to use and makes the Bible more understandable not just for new believers, but for anybody who would read it. I gauged the merits of the study tools by having a go at the Book of Revelations, something that I usually have a hard time understanding for all the symbolism. I found the points and explanations given in informative tidbits on the pertinent pages to be very useful and guiding. The additional articles definitely cater to new believers but are just as interesting to read for those who are older in the faith. Greg Laurie's Secrets to Spiritual Success would definitely benefit both the "young" and the mature spiritually. I read through the article and was blessed and inspired.
I also love how it's in the New King James Version. The Bible is considered the greatest book obviously for its content, but it also holds excellent literary merit. The NKJV preserves the beautiful prose and poetry of the Bible while sparing us the archaic pronouns, conjugations, etc.
Edited by world renowned preacher and author, Greg Laurie, Start! would make a terrific personal Bible. It's a reasonable weight and size for toting to church and it will do wonderfully for daily devotions. Two things that may be points for consideration: some may think the print to be on the small side (nothing that reading glasses wouldn't remedy; personally, I think the font size is fine.) and the book is a paperback. The cover is an arresting red with a very contemporary feel to it. You'll have to read the title for you to realize that it's a Bible. It looks more engaging than your token leather-bound Bible, but would not stand up as well to frequent use (and that's the goal, right?). If you get this, I suggest, you use a protective book cover.
Overall, I'm happy to have received Start!. I shall be using it myself, and I definitely recommend it to new believers who are shopping for a Bible to start and grow with. Start! is retail priced at $19.99.
(Disclaimer: As a blogger I received a free review copy of this book from Booksneeze. The opinions expressed are entirely my own.)