I'm really not yet back to normal blogging (which includes clicking, dropping and commenting), but I'm online anyway since I'm working on a story and waiting for 7pm CST for the live streaming of an interview with Reuben Morgan et al over at worshiptogether.com. I also have these pics, so I thought I might as well share them since they're homeschool-ish and creative play-ish and really cute (nothing -ish-ly about that, imho, hehe).
Remember how I made a patchwork cape for her birthday? That's it (it's too big, but that only means she can use it for a really long time, hee). You might recognize parts of the cape from here, here and here.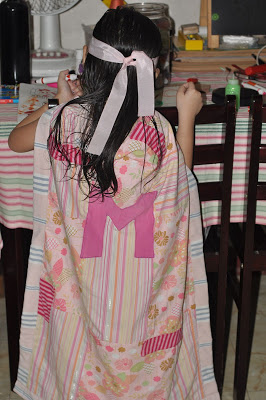 That's an ensemble Marguerite put together herself. She was practicing this little dance number she has and she had to be in a dance costume (that tutu is actually something I fashioned from an old dress), of course. We added the cape and she went from dancer to Super Midge (She's so fast, she's a blur! She uncaps 50 markers and leaves them to dry in 2 seconds! She also tries to sip glitter glue right before your nose!).