Our church was supposed to throw a party for my dad last Sunday (his actual birthday), but he wasn't available in the afternoon, so it was moved to yesterday. For our contribution to the program, Chip and I hosted a "Let's Face the Music/Name That Tune" kind of game. I got together a list with 10 songs that have some sort of association with Dad (some of the tunes were "I'd Rather Have Jesus", "Still", and "I'll Fly Away, Oh Glory"). Chip gave the riddle or clue, while I plonked out notes on the keyboard. Marguerite had a repeat performance of her "Jesus Loves Me".
She was cute both times.
At Mom's party, she sang ahead of the accompaniment, while at Dad's, she sang several pitches too high, lol, but the ballet routine was always adorable. I'm glad she's not scared of performing. I'm not sure I would have done it at that age.
That "Name That Tune" game got a little crazy, hehe. The second pic is of me after I had murdered one of the songs with my plonking. I'm holding my cheat sheet, which I had made myself, only I was not about to trust it, esp since one of the staffs had SIX lines... lol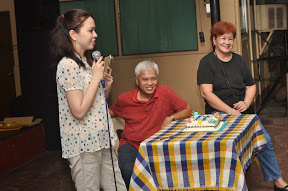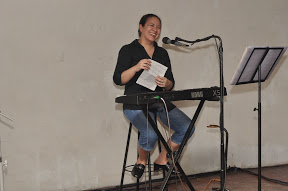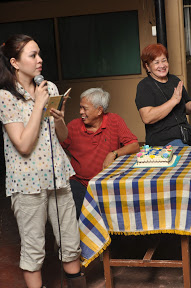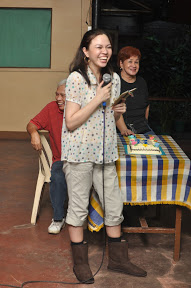 Marguerite and her friends after they'd hijacked that stroller from Baby Benjamin; I and my mom, and no, we didn't color coordinate; Marguerite with her friend Misha. Dad blowing out the candle on his cake (in case you think that's a picture of him surfing, lol)