Remember my post about the movie version of "Flipped" here? The bestselling young adult novel by
Wendelin Van Draanen was brought to life by Rob Reiner, the genius behind two other personal favorites of mine, "Stand By Me" and "The Princess Bride". It was never released in the Philippines (much to the disappointment of fans of the book here), so now we're looking forward to the DVD which will hit shelves on November 23. To promote the DVD release, a special relationship widget was created to encourage moms and daughters to bond on the importance of love and relationship. Among other things, the widget features interviews between Madeline Carroll (the lead actress) and her mother. Check it out:
I'm also hosting a Flipped DVD giveaway.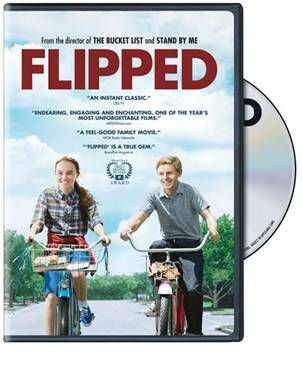 This will run from today, November 19 until next Tuesday November 23 at 11:59 pm Manila time. This contest is open to everybody excluding my immediate family. There are several ways to join:
- (1 entry) Follow Spinning Lovely Days. Followers don't have an automatic entry. You have to leave a comment indicating the name you used to follow my blog, e.g. Followed Spinning Lovely Days; handle: ivy
- (1 entry) Follow me on Twitter (@wahmivy). Leave me a comment informing you have done so or are already doing so, e.g. Followed @wahmivy on Twitter; handle: ivy
- (1 entry) Leave me a comment explaining why you're interested in the movie, or if you've seen it, what you like about it.
- (1 entry) Mention this giveaway with a link to this post on your blog. Leave a comment with the URL of your blog post.
Leave a separate comment for every entry. I'll base your entry numbers on the sequence of the comments. Invalid entries will be removed before the draw and comments that are not entries will be skipped over in the numbering. In effect, you can have as many as four entries. Comments for this post will be closed at 12am November 24 (Manila time). I'll let my daughter pick a number and the entry that corresponds wins. I'll videotape the draw. (I know I can just go to random.org, but I think this way is more fun :D). I'll announce the winner on November 25. Let me know if you have questions. Hope you can join!

***This contest is now over.***