I'm not yet trying to teach Marguerite how to write. I did say I'll put off intentional intellectual learning until she's about 7 or when she shows that she's ready. What happens now is she just learns by imitation, natural observation, etc. If I want to try teaching her something, I do so in a game. If she gets it, good; if she doesn't, no worries - I'll try again at a later time. I introduce things and if it's a hit, good, etc., etc. I really just pretty much give her free rein when it comes to play and creative exploits (within reason - so long as nothing gets destroyed or nobody gets hurt, and as for the mess... I believe in children being as messy as possible, and then just training them to clean up - and I do believe in starting early with this one, lol).
So the whole point of this post is that I'm really fascinated by the theory that it's better to start with cursive in teaching children how to write. I learned very traditionally and way early. My mom was pretty committed to making me ahead of the class when I was younger, so she was really hands-on during my preschool years and when I was about to start grade school. I remember the summer before first grade, I had to spend some time with her learning cursive before I could go off and play. She was a real Simon Legree about it too. When school started, the writing teacher didn't even start teaching cursive until the 4th quarter. That's essentially the story of my grade school: I spent a good chunk of the school year being bored with lessons I already knew... such a waste of childhood time. I mean, when would I ever be 7-8-9-10-11 again? And I entered puberty way early too, so when I'm in a whiny mood, I really consider myself cheated, lol. Anyway, going back... while Marguerite and I were playing with her slate last night, I decided to check if it's easier for Marguerite to copy script or print. I didn't start taking pictures and trying to put structure in the experiment until too late, so I can't effectively show you my findings, but it does seem that, yeah, cursive was easier for her to copy. Take for example the letter M (since her name begins with it):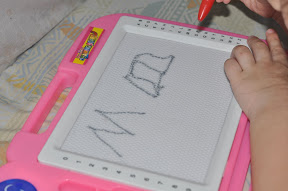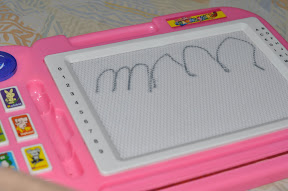 She had actually already done the letter M before, but with instructions from me to go up-down-up-down with her pencil. When she had to copy, she couldn't do it. Anyway, here are other pictures from our game last night.