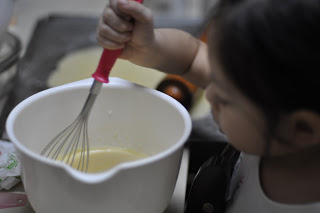 In the middle of all the fretting over Megi/Juan, Marguerite and I baked some strawberry pie. I tweaked a strawberry hypocrite pie recipe I found online and came up with voilà -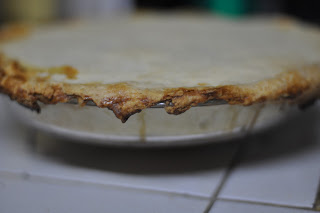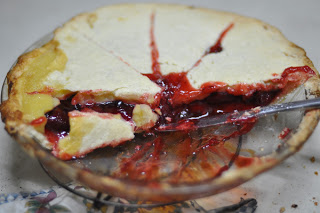 It could be prettier, but people are eating it, so I guess it turned out okay. As usual, Marguerite liked the stirring, beating, kneading, flattening, etc. parts. That's her in the pic working on the custard.
I haven't stepped out of the house, but my cousins say the winds are pretty strong (definitely not as strong as they are up north) and, of course, rain has been quite persistent throughout the night. Metropolitan Manila, of which we are a part, got a Signal No. 1 (this refers to the wind capacity alone - just because it's not blowing that hard, it doesn't mean that floods aren't going up), but the rain has been persistent since early yesterday evening. Mark had a gig at the Fort and was sure to come home late. I was beginning to worry, but thankfully, I could just pray for his safety and trust in God's faithfulness. I was able to sleep peacefully. From what I've gathered from reading news online, Manila has thus far been casualty-free in relation to the typhoon. The area that's receiving the full brunt of the cyclone is the north. I'm praying that the thing would just move on and steer clear of other countries (Vietnam, China and Thailand certainly don't need it any more than we do). Sigh, I thought as soon as we were done with September, we could breathe more easily about a possible Ondoy repeat, but with La Niña screwing up the normal monsoon schedule, all bets are off.
In other news, here's a pretty picture of Marguerite. It's actually my new Facebook profile pic (my cousin Cheska took it during Sunday School - she's Marguerite's teacher. Incidentally, she doesn't like how she looks in the pic, hence the multitude of stars, lol):