I already told you about the Book Sale right next to Marguerite's ballet school. I didn't mean to go. Honest, I didn't. But Mark was waiting with me and was fiddling away on his phone, which I thought was very anti-social and annoying, considering we had the chance to wait together (I usually have to wait alone) and could chat and not be bored. So I got up and told him he could wait by himself, I was going to walk around. He looked flabbergasted at the role reversal. I usually do the waiting while he does fun things to amuse himself. So that's why I went to the bookstore thinking it wouldn't kill cheapskate me to spend Php10 (less than $.25) on a back issue of a magazine (I had the time to really scavenge). I found a Country Living worth Php65, compromised, telling myself I could live with paying Php65 for an issue from this year, made my peace with that, AND THEN courted danger by browsing. I ended up buying 5 books:
The Secret Diary of Adrian Mole, Aged 13 3/4 by Sue Townsend (I already have the complete series - but the book was in good condition and I'm seriously considering selling books online - just books that I like that my kindred might be looking for, hehe)
Tree by Leaf by Cynthia Voigt (Will post about Cynthia Voigt another day)
The Flip-flop Girl by Katherine Paterson
Jacob Have I Loved by Katherine Paterson (Had read many times library copies)
Anne of the Island by LM Montgomery (the only book we didn't have from the series)
Mark can just blame himself.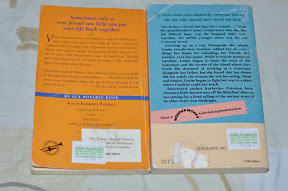 Today I'll focus on the books by Katherine Paterson. She's one of those writers whose books I buy without even seeing if the synopsis would interest me. She wrote one of my all-time favorites "Bridge to Terabithia". She was a missionary's daughter who later became a pastor's wife. She started her teaching career in Sunday School. Obviously, I'm conceited enough to think there are parallelisms between us, lol.
Considering how much I love Katherine Paterson, the books are clearly a steal. I don't care that they're so evidently used since you know how much I dig pre-loved books.
"The Flip-flop Girl" is a great book for a tweener to read. It's not Paterson's best, but it still has the elements of great writing. I think it's also a very inspiring read for teachers, reminds them that their students are more than just their roles inside the classroom and have so much more going on in their lives.
If I didn't love the story of "Jacob Have I Loved", I would love it for the title alone. There's no Jacob in my life and as much as I like it, the name has been forever tarnished by association with the Twilight series. I think the novel is genius. It won a Newbery of course, but the thing is, even though at the time I read it I thought there was nothing similar in my life to that of the characters in the story, I was still able to relate so much. It's a peculiar situation that somehow strikes a chord with everybody. Just like "The Flip-flop Girl", this book is great reading for children, and is just as enlightening for adults.