Yesterday as Pres. Aquino, the Son, took his oath, we were entertaining this beautiful baby boy.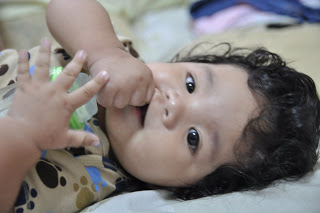 This is my nephew Matthew. One minute he was no bigger than a baguette, now he's pounds and pounds of yumminess with a headful of adorable ringlets. Any interested modeling agents out there? Leave me your contact info and I'll pass it along to his mother. :)
We also crammed as much together time as we could with my husband as he's off to Cebu for a prenup shoot this weekend. Last weekend, he was in Batangas, but at least, he was able to spend Sunday with us. This weekend, he's going to the airport straight from work on Friday and flying back to Manila on Sunday, only to go straight to an affair he's shooting as well. We probably won't see him until Monday morning and then off to the daily grind for him again. I'm honestly not complaining. God is obviously being good to us.
Anyway, yesterday, Marguerite and I just basically tagged along while he ran errands. We did finally get to try the Bellini's here in Marikina. We ate at the Cubao one a long time ago and we loved it. I think I might have built it up in my mind too much. The food yesterday was just okay, but the ambiance was still, well, Italian. :)
Now, nobody say anything about my fat grandmother arm in the 3rd picture or that I have to be pregnant to justify that look or I'll sulk. Also, Marguerite didn't want to pose next to the miniature Leaning Tower of Pisa, so Kitty Kat gladly rose to the occasion.