Change has been a constant presence in my life - in all our lives, I'm sure. After all, a lack of change probably signifies a lack of life. That's how it worked out in languages anyway - a language dies, it stops evolving. Or is it the other way around? Amongst the many stages I've had in my life, none has produced such a drastic change in me than motherhood had. All those major and minor changes that occurred in my journey to this point in my life - in terms of the spiritual, the physical, the material, etc. - helped prepare me for the most important role that I've ever taken on.
In many ways, motherhood is like the point of no return. Once it happens, there's no turning back. You're responsible for another life and the job is literally 24/7 (even more so in my case since we co-sleep). The demands never seem to let up and when you think about it, you only get one chance so you have no choice but to get things right (and with these thoughts, you kindly qualify "Right doesn't necessarily mean perfect" and remember that you read somewhere that there is no room for perfectionism in motherhood). It still remains that it's a person - no matter how small - you're dealing with. Every little thing you expose her to contributes in the shaping of the person she is and is to become. That's my belief anyway. I was pregnant when the weight of that realization settled on top of the physical weight of my tummy and my figurative shoulders felt the overwhelming magnitude of what the job entailed - a relentless mindfulness that gave whole new dimensions to conscious living.
I read a lot. I examined myself, the kind of person I was. I analyzed my own upbringing. Eventually, I made choices. I determined what I wanted for my daughter: goodness and happiness. That wasn't very hard. At the end of the day, I resort to radical - fundamental, not revolutionary - thinking as a rule. That's my way of coming up with answers. The next step was to figure out the way to get to that end. Based on the books, articles, blogs, etc. I'd read, I zeroed in on the kind of lifestyle that would best aid us in developing the values we've chosen for our family… Now, let me say that I've always had a penchant for the anti-pop, but that mostly manifested in superficial things - taste in clothes and accessories, reading and listening preferences, etc. I'd never really had to commit to anything truly alternative until I ventured into attachment parenting and the home life it usually segues into - homeschooling, natural and simplified living, etc.
My own exposure was to that of the mainstream, the traditional… All the tenets of AP did not come naturally to me. My inclination was toward the opposite, in fact. And yet there I was, defending my stand on co-sleeping, babywearing, delayed vaccination, etc. When it came to discipline, not only did I have to fight the urge to be punitive, I also had to deal with the judgments - that I was spoiling my child, that it was not biblical not to spank, that it was to my child's detriment not to instill fear in her… Everything grated and wore away at my resolve, which to date constantly needs patching up as my philosophies continue to quake and alter - I just reason that it's how we can keep things fresh, that it's actually a process of reevaluation and adaptation. Let's not even get into the great unknown that has been my conviction since before I got married and had a child - homeschooling. This early - my child is 3 years old and shouldn't even really be in school yet normally - I'm already dealing with the socialization argument. I'm already bored by the non-issue, so I'm not going into that.
Another part of the change involved my work. About two months before giving birth, I'd resigned from a very good job as a Spanish teacher at an international school and found myself freelancing as a writer and as a translator once again. Despite my work-at-home status, we've essentially been reduced to a single-income family. In moments of doubt, I just tell myself that simplified living is a small price to pay for what I've gained in return - the opportunity to become my daughter's primary caregiver AND influence, the opportunity to miss very little in her life. Since we were keeping things simple anyway, I thought I'd do away with house help and before I knew it, I had transformed myself into a 1950s housewife, consumed with homemaking and childcare travails. I cook, bake, sew, knit, crochet, and have been on a DIY streak. I, who had all her Home Ec projects made by her mother, have taken the handmade pledge! There was nothing in my training and even my personality that indicated this was how I was going to turn out. It's not something I'm proud of, but I grew up with a slew of helpers and my mother tended to have a conniption fit if it seemed as though my sister and I were to face hardship in any way. The people who've known me since girlhood didn't bother to hide their amazement that I was able to accomplish feats such as normal childbirth, maid-free living, uh, independence, etc. I must have given the impression that I was a spoiled wimp, but thankfully, I'm gradually proving everybody wrong. Or maybe I was actually spoiled and wussy, but my commitment to being a good mother gave me the strength and will to transform myself.
I'm not saying that everything has been smooth-sailing since I adopted the lifestyle shift. If anything, I've mostly been inconsistent, but it doesn't mean I'm about to throw in the towel. I just need to keep myself inspired and motivated. I also pray a lot for guidance. It helps to post reminders and lists around me, in case I catch myself getting lazy.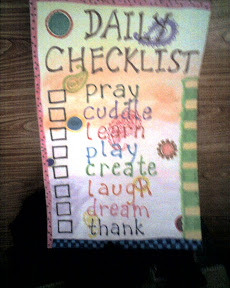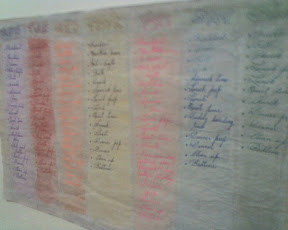 Just a couple of the many lists I've created and posted to remind myself of the important things I need to do.
There are several points I really need to work on: natural lifestyle, positivity, spirituality and balance. Natural lifestyle has something to do with our food consumption and the activities we partake in. As it is, we still find ourselves eating fastfood and other preservative and artificial flavor/color laden stuff, albeit only occasionally. The TV is also too accessible for my comfort. We should definitely have more time for outdoor play and other naturalist activities. These are particular areas for improvement. In terms of positivity, I have Reuben Morgan to thank for the idea that I have to feed myself good things to give out positive stuff as well. Some days it seems to me as though I've never gotten over juvenile angst. No wonder if I keep on listening to the unofficial soundtrack of my teenage years (cue in the bass line of Smells Like Teen Spirit or Billy Korgan wailing "Despite all my rage, I'm still just a rat in a cage"…). I'm still too impressionable for my own good, so I have to be careful about what I let in. In terms of spirituality, my desire has always been to be able to maintain a worshipful attitude. I'm in love with my own self too much and that definitely messes up my priorities. When it comes to my daughter's spirituality, preaching won't hack it. She has to witness and be involved in a system that nurtures our belief. Praying without ceasing and constant awareness of God's presence are musts that we have to work on. Balance is also something I have to remember to observe. I've never been an efficient multitasker and I have the tendency to go from one extreme to the other. It is definitely not a natural talent of mine, but is something I have to learn and acquire. In this case, balance touches on the different roles I play. My inclination is to champion motherhood and forget about my own personal needs, my being a wife, a friend, etc.
When I think of change, I have to view it in a positive light. It has to be about improvement. While the driving force behind all these transformations may have been the intention to create a beautiful life for my daughter, I really have to do it for myself as well, for the journey to the best person I could be in such a way that I could glorify God and be a good testimony for Him.
Why I insist on spinning lovely days...