Hi. Marguerite is better. I've finally gotten some sleep, but not before the deprivation weakened my immune system and paved the way for an asthma attack (actually just a looming one, but the elements - rattly chest, congested air passage, etc. - are all present).
For art yesterday, we did this... I don't know what to call it, but there are colors, shapes (I did circle, M did square), cutting and weaving involved... We did finish weaving the thing, but it's not going to go on Marguerite's homeschool portfolio (at least, we have pictures) because before I got to take a picture of the finished product, Marguerite unraveled (de-wove? what's the word?) the strips and started using them as pompoms. It was cute. But how do you stop yourself from biting off your own arm in frustration with the laying out of pictures on Blogger? Look!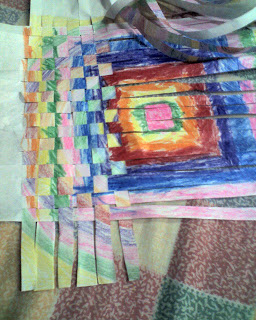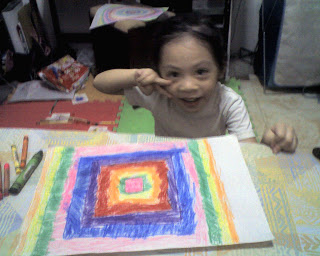 Look at Marguerite being all Asian and flashing the peace sign for the photo - I did not teach her that, have never done it myself, and am inclined to suspect my cousin Jaymee as the culprit...
By the way, yesterday was supposed to be Chocolate Day... My chocolate-related article in Bukisa went live yesterday, but I was too lazy to post about it. So here it is a day late (or not... it's still the 7th in some places, right?): Achieving the Ultimate Chocolate Experience
It's a list of ideas for people to manifest hardcore chocoholism, lol. Hope you can drop by and read. Btw, if you're also on Bukisa, please leave links to your profile or articles in the comments section and I'll visit them too. :)