We made ratatouille for dinner yesterday. With a Nikon DS90 in the house, I don't know why I insist on taking pictures with my phone. So basically I'm forcing you to look at blurry pictures again.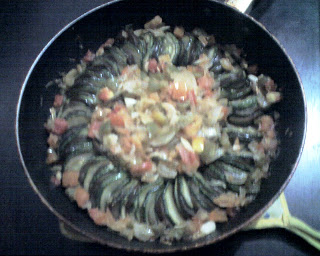 Basically it's eggplant, zucchini, capsicum, tomatoes, onion, garlic and provençal herbs cooked in olive oil - all good stuff. Okay, I cannot lie; I also used butter. I'm sorry, but I think I'm in love with the thing! I cooked the thing on the stove top, but since I wanted the Ratatouille arrangement, I had to sauté the aubergine and the zucchini separately (and since I had to do that, why not in butter, right?) and then do that "domino" arrangement with them. Marguerite "helped" as usual. One minute she was making the zucchini and eggplant slices talk to each other and the next she got hold of my Sustagen Premium and was sprinkling it on the floor. She was getting sleepy around that time and a sleepy Marguerite, I'll have you know, is a thoroughly wild child. Anyway after flipping out as expected, and cleaning up the mess, I sat her down at the table with moringa and egg noodle soup, which kept her busy and out of mischief for several minutes. Sigh, and after all that ratatouille hype, when "le festin a été sur son chemin," the little one wasn't interested in eating it. I just gave her some more soup for dinner. I ate mine with buttered bread, but such a thing was not dinner for Husband, so he had the usual rice+viand meal and just had the ratatouille as a side dish.
Hey, maybe this picture will be clearer than the first...