Watercolor and crayon shavings everywhere. Ah well, it's all in good fun. So yesterday's art projects were more of the usual, plus melted crayon wax and white crayon drawing under watercolor. My cheese grater and iron will never be the same again. Kidding! They're fine. I used a sharpener for the crayon shavings and I used wax paper to protect my flat iron. Look at this.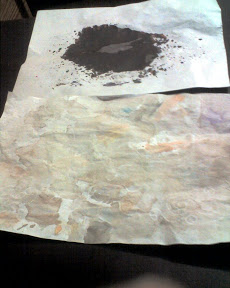 Is it just me or does it really seem like Marguerite has a particular genius for producing muddy colors? lol The wax melted together, of course since she piled them in an enchanting blob in the middle. I tried showing her how to sprinkle the shavings to create objects or the outline of my hand, but she was having none of that. Well, sigh, it's her art, so I let her do what she wanted, and what she wanted was that and a performance art we're calling "And Crayon Shavings Shall Rain in Our Apartment". As for the white crayon thing, she was less excited about that since we'd done it before. However, I let her use sponges instead of brushes this time and it became more playing with water than actual painting.
I can't wait until she can properly clean up after herself.