I think I've already pretentiously professed to be a history buff here before (there are four previous posts, look - this would be the fifth, lol). I love vintage stuff, even the faux vintage. I'm planning to learn more about dating things, develop an eye for distinguishing styles and periods. Right now, I just go by "ooh that looks vintage". For instance, I found the following in one of those stalls alongside the Seine when I was in Paris.
I'm pretty sure they're just recent reproductions, but they still look vintage hanging on my walls.;-) Same thing with these postcards.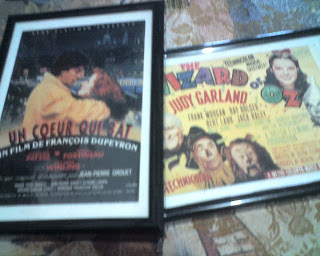 The French one I got from either the Museum Shop or Old Manila and the movie was released in the early '90s, not even a postcard reproduction of a real vintage film affiche, lol, but it still looks vintage; the Wizard of Oz one I got in one of those quaint little shops in Seaport Village in San Diego.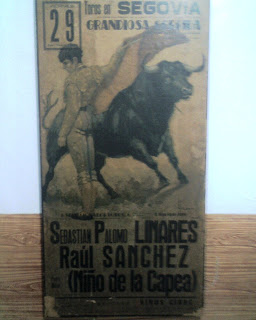 This corrida poster, on the other hand, is really old, although, of course, it's not a poster of a real corrida (something I've never seen or plan to see, even just for a cultural experience - I don't mind the Sanfermines, but opted not to go anyway - my classmates slept in an ATM vestibule and one of them was one of the casualties that year - okay, I have to share this anecdote: This classmate who shall remain nameless, ran toward where the bulls were kept, essentially running to meet the bulls instead of running away from them - the details really aren't clear. Anyway, as he saw the bulls charging toward him, somebody grabbed him and threw him to the wall to get him out of the bulls' way. In effect, he obtained his injuries from that person and not from the bulls. However, if that person hadn't slammed him to the wall, those bulls would have killed him. He ended up in the hospital and was mentioned on CNN... end of anecdote). Anyway, I have a flamenco dancer one too, but it needs to be framed. I tried taping it, but it refused to stay up. So yeah, I forgot the point of this post. I guess, I'm just talking about some of my favorite things. Bags, shoes, makeup, etc. don't do it for me. Give me a vintage book, print, knick knack, etc. instead any day.