If you're not into Cats, the musical, you probably didn't get the title - sorry about that, hehe
So I ended up fusing a couple of elements from my cat costume (yesterday) to that of Marguerite's for her final costume.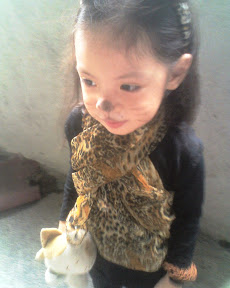 She's not going trick-or-treating. We've decided to stay put at home today, mostly because of Santi, but also because I still have to find a good justification for going trick-or-treating when we don't really observe Halloween. ;p I did let her wear a costume (dress-up/costumes have always been our thing, mine and Chip's, lol). It was actually Marguerite's request to put on her cat costume (btw, it doubles as a unitard when she's dancing to Glee Kurt's Single Ladies) today. I thought it would be cute anyway, so I got the costume (modified) on her, did her cat face, and up we went to play with her friends.