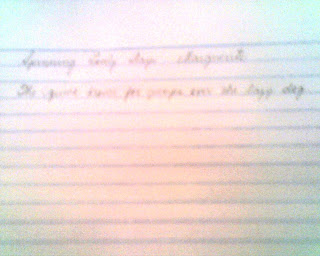 Remember when I said I was going to learn calligraphy? Well, I still have to learn the workings of a fountain pen, but I have been practicing the Spencerian script. I'm going to make you suffer through pictures taken with my phone because I'm too lazy to bring out and then wield the Nikon, lol. The writing on the left is my normal cursive.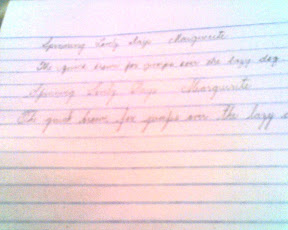 The following is supposed to be comparative, but since the image is as clear as cloudy skies, just take my word for it when I say that the first specimen is my regular writing and the second one is an attempt at Spencerian.

And finally, Spencerian using three lines (too big for my normal penmanship size).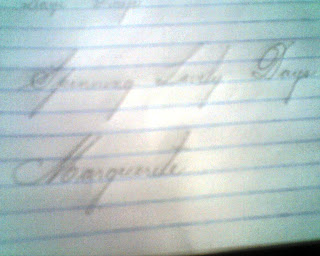 * From wiki: "Spencerian Script is a script style that flourished in the United States from 1850 to 1925. Platt Rogers Spencer, whose name the style bears, was impressed with the idea that America needed a penmanship style that could be written quickly, legibly, and elegantly to aid in matters of business correspondence as well as personal letter-writing..."