It's my mom's birthday today. She's now one year shy of being a senior citizen, lol. If there's somebody who needs a break, it's my mom. She has been functioning like a nurse for the last decade or so that she's ready to receive her degree (she did pre-med BS Bio for college, so add that to the experience, would that make her qualify for a BS Nursing diploma? lol). First, my grandparents, and then for the last couple of years, my sister (who's much better now, for those who care). She needs some serious pampering and gallivanting and having fun and just plain worry-free living. That's my birthday wish for her besides all the other usual wishes (good health, blessings...) - F.U.N.
Marguerite and I made a grasshopper pie for her birthday lunch.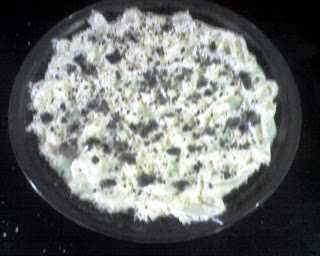 To our Mom and Nannie: Have a fabulous (last non-senior citizen, lol) birthday! Te queremos muchísimo.