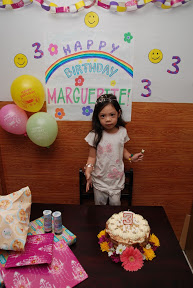 I still don't have much time to blog. With articles to write, homeschooling, art projects, household stuff... I'm pretty exhausted. Anyway, Marguerite seems to have enjoyed her birthday immensely. Many of our efforts have been big hits with her, so that's something we're very glad about. She received some early gifts last Sunday, but a big chunk of the celebration will be happening on Sunday. Chloe

gave her a darling charm bracelet, which Marguerite absolutely loves. Her

Aunt Cheska

(aka Tita Patch) gave her a lovely matching crocheted dress and hat (they're in the album). Basically, this is what Marguerite woke up to yesterday: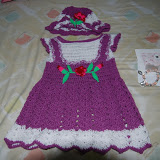 Marguerite's 3rd Birthday
Btw, last Sunday after service, the kids wanted to have their picture taken with Chip (although that's really the 3rd consecutive Sunday she attended). This is it (I look fat and high). If you're wondering, there's nothing wrong with Marguerite. That's actually Chip's wheelchair. The kids take turns riding it.