For This Week...





Outside my Window...

blinding sunlight, even the birds seem to have escaped to some cooler retreat


I am thinking...

of my parenting philosophies and whether I've chosen the right ones when it comes to raising my daughter


I am thankful for...

God's goodness; life has been quiet lately and I should remember to be properly thankful for all the mundane details I tend to take for granted


From the kitchen...

cucumber shake and pasta


I am creating...

a maypole (I know, I know... the thing has associations)


I am wearing...

tank top and shorts


I am reading...

Brigitte Gabriel's "They Must Be Stopped" (my dad insisted I read it; it's very interesting)


I am hoping...

that the current attempt to potty-train will be successful


I am hearing...

the whir of several fans, a baby crying from a couple of doors down


Around the house...

I've just cleaned the floors, done the lunch dishes, and I'm now about to whip up tonight's dessert (mango cream whatnot)


One of my favorite things...

a pair of green (beads and crystals) dangly earrings that my sister made for me


A Few Plans For The Rest Of The Week...

take on a few more MyLot tasks, paint a marguerite poster for my daughter's room, finish this story I've been working on in my head...
Here is a picture thought I am sharing with you...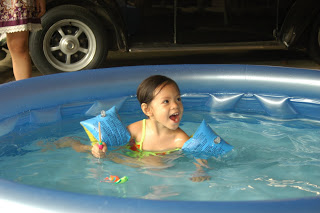 Summer fun. Marguerite "swimming and fishing" in an inflatable pool at my inlaws'. Don't worry, the water here was enjoyed by many (3 other kids and 2 adults - not all at once, lol) and was later used to wash a couple of cars.