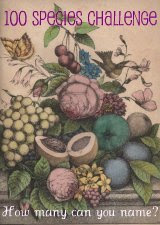 I'm participating in the 100 Species Challenge started by Sarah Sours. You can read the previous entry here.


Voilà my growing list:

1. Shy grass

2. Lantana

3. Creeping fig
4. Ginger lily
5. Asian sword fern
This week, I'm adding four, starting with:


We call it gumamela. In other places it's called rosemallow. In elementary school, we always used hibiscus to study the different parts of a flower (it's easy to spot its different parts I suppose). The plant grows pretty tall and can be used as a border or a natural fence. The flowers come in all sorts of colors. We also have the peach one, but I didn't see a bloom, so this one will do. Apparently, they make teas, jams, and other edible goodies from hibiscus, but as a kid, I mostly used the leaves and flowers to make homemade bubbles. Something about them make the soap extra thick or sticky, so we used to pound them and then mix them with regular soapy water. We twisted wires to make a bubble wand (though we also sometimes used papaya stalk sort of like a straw).



We call it the same thing in Filipino, but in a

tagalized

manner (something like

bo-gan'vil-ya

) Practically every house here has bougainvillea growing either on the ground or in a pot. It's woody and creeps upwards, so many use it to frame structures. People also like to plant it by the fence probably because it's thorny and can scratch up a careless burglar.:) The flowers come in many shades.



We (at least my household) mistakenly refer to it as the "yesterday-today-tomorrow" plant, but it seems it's common name is either Chinese honeysuckle or Rangoon creeper. However, it does have the same properties as the correct YTT plant: the blooms change colors from a deep pink/red to light pink to white. Its fragrance is pretty potent (hated passing by ours when I was pregnant). It's also medicinal and its various parts can be used to treat diarrhea, fever, rheumatism etc.



We love the fruit (the one shown here is tiny - just had a harvest, lol). We eat it as it is or use it for cooking. The plant itself has many uses. The leaves and bark are commonly used in folk medicine (an especially necessary element in non-modern circumcision practices, lol). It's one of our power plants. Have one growing in your yard and you may never have to go to a drugstore at all.