For Today...

Outside my Window

...torrential rains, water flowing from the eaves, wet plants, birds cozying up inside birdhouses


I am thinking

...writing schedule, Marguerite's activities, time I can grab sleep


I am thankful for...not having to go out for work or school during the monsoon season
From the kitchen...cookies, pasta
I am creating...two mystery stories, one inspirational story, a crocheted blanket for Marguerite
I am wearing

...shorts and tank top


I am reading

...(rereading) Libby on Wednesday


I am hoping

...for good weather


I am hearing

...white noise from multiple sources (whirring fan, humming computer) drowned by the sound of the deluge of water


Around the house...dusting, toys to put away, areas needing scrubbing
One of my favorite things

...is having the power go out when it's cold and raining, and all the family end up in one room to share candlelight and baked goodies, the aroma of which permeates the air, and somebody brings out the guitar for a round of oldies but goodies

...
A Few Plans For The Rest Of The Week

...take care of writing assignments, put in time for crafts and baking, try out new activities with Marguerite, have a meeting with Husband over business ventures


Here is a picture thought I am sharing with you...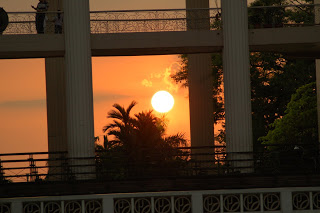 This was taken by Husband more than a year ago on a pleasant summer afternoon at the UP amphitheatre. It has been a while since I got to view a proper sunset. All of my recent attempts had been thwarted by cloudy skies.