Memes the word!

I'm a bit distrustful of this quiz since the way I answered the questions relating to personality definitely does not point to Marianne Dashwood, but since I chose Kate Winslet as the actress to portray me, voilà: I'm Marianne Dashwood. I don't think Husband and Colonel Brandon have anything in common at all. Did I end up with a Willoughby then? LOLZ What a question! No, he is nothing like Willoughby (later edited to add: except for hoTTness, :-D)!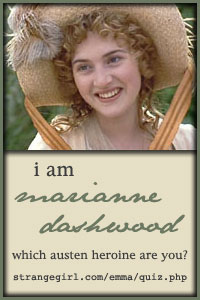 Take the Quiz here!



***

This is tricky. Answer with just ONE word.


Yourself: flaky ;-p
Your partner: saint
Your hair: impossible
Your Mother: selfless
Your Father: wise
Your Favorite Item: book
Your dream last night: forgettable
Your Favorite Drink: tea
Your Dream Car: hybrid
Your Dream Home: cottage
The Room You Are In: living
Your Ex: n/a
Your fear: war
Where you Want to be in Ten Years? (one word? are you kidding?) happy
Who you hung out with last night: Marguerite
What You're Not: trendy
Muffins: banana
One of Your Wish List Items: book
Time: tricky
The Last Thing You Did: write
What You Are Wearing: clothes
Your favorite weather: crispy
Your Favorite Book: mystery
Last thing you ate: Butterfingers
Your Life: good
Your mood: pensive
Your Best Friends: kindred
What are you thinking about right now: article
Your car: useful
What are you doing at the moment: writing
Your summer: nature
Relationship status: married
What is on your tv: nothing
What is the weather like: hot
When is the last time you laughed: today


***

Mention 6 unimportant things about yourself. (This is hard. I think everything about myself is important, heehee!)

1. I'm rereading Sue Grafton's "I is for Innocent".
2. I'm at this moment torn between eating something light or having tea.
3. I'll probably do both.
4. I can probably do without having hard candy ever again.
5. I listed no. 4 too quickly.
6. I didn't do this meme any justice.

***

List down 10 of your pet peeves.

1. Bullies
2. Bigots
3. Judgmental and usually very uninformed people
4. Meddlesome people
5. Clichés (sometimes guilty)
6. People with messianic complex
7. Affected behavior (myself included)
8. Rude customers
9. Closed/Narrow-minded people
10. Spammers and trollers

I'm tagging all of my readers. If you don't have a blog, choose a meme/s and post in Comments.