Sunday late afternoon, we were on our way to a meeting, but we had several hours to kill so we thought we'd put in our shopping first. On our way to the store, we passed by Loyola Memorial Park and Husband had the brill idea of going in for a quick visit to his grandparents' grave. Okay, I was fine with that. I like Loyola. When Chip and I were kids and there still weren't any parks in Marikina, our parents used to bring us there early mornings so Dad could get in his daily run (he used to run in marathons) and we could feed the gold fish in the man-made pond. Anyway, naturally Mark couldn't find the graves. Marguerite had a fine time poking the ground with a stick, then later she decided to gather the green berry-things (do you know what they are?) that were littering the place. She was like a little ant hoarding things for the rainy season.
looking at tiny lavender moths; poking with a stick; gathering green berries
We went to the store after Marguerite had had her fill of fresh but humid air - you should have seen me sweat, er, glow). We went to a secondhand bookstore afterwards and ended up buying a board book because Marguerite would not let go of the thing and ran out of the store with it (the beginnings of a life of crime). I was not happy about that. I'm not prepared to pay 130 pesos for a secondhand book with all its corners scuffed. I can easily get a better deal from other secondhand bookstores. That particular store seems to be pricier than the other branches. As usual, it was "Hi! Hello! Bye!". I'm not worried that she's too friendly with strangers. Even if she does create a one-person greeting committee, she still would not go with strangers (or friends, for that matter).
We decided to go to Eastwood for dinner. We deigned show up in our sweaty, ratty clothes. The Angelos were performing when we got to there. They're like a cross between F4 and Il Divo, looking like the former and sounding like the latter. We had dinner and then we let Marguerite loose to chase after rat-dogs. She did a lot of dancing (a band covering the Beatles was on by then) and touching dirty things. Then while she high-fived one of the living statues, she would not let him carry her for a pic.
dancing after pestering the rat-dog behind her; dancing to the music of gushing water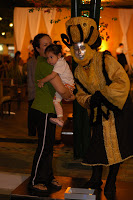 posing with a living statue