Happy 14th birthday (Feb 20) to my cousin Jaymee. May you be NCR-level soon in taekwondo and rock more as a musician. God bless. :)
I made a batch of birthday eggnog for Jaymee (Wouldn't you know it - we couldn't open the rum bottle. It was God's will, Jaymee, that we use rum extract instead, lol.). Hers got hearts and chocolate chips - birthday version - while the rest got plain ground cinnamon.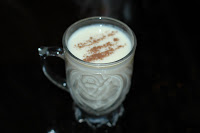 And wouldn't you also know it? I got carried away with the whipping cream and curdled it. That's how the mini putos (a los hispanohablantes, tranquilaos. es un tipo de comida filipina. no significa la misma cosa en tagalo.) got served with non-commercial butter with traces of liquid cream (milk?) for extra grossness and, hey, it was unsalted too.