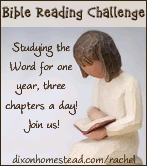 I haven't been very good about posting for this challenge. I find that I need some time to be able to translate feelings and thoughts I've just had into words with care. Anyway, I think I have some time before my daughter wakes up, so I'll discuss the chapters I'd just read. They're from the book of Isaiah, chapters 40 to 42.
I read the chapters online as my husband, who is almost a foot taller than myself ,deemed it practical to put my Bible on the top shelf of the bookcase. Anyway, something weird I just discovered about myself: I have a hard time understanding passages that are not in the New King James Version. The site's default version was NIV and you'd think this would be easier to understand, but I was well into the second verse when I realized that I was having difficulty registering what I was reading. I changed it to the New King James and presto! I was in adult reading level again.:)
When I first saw the verse for meditation on the site I referred to for devotion this morning (ch. 40, v. 31), I thought the waiting had something to do with our quest for a place of our own. We had found one that was satisfactory and I was a little blindsided by my own enthusiasm. Of course, upon prayer and reflection, it occurred to me that it was too early in the search to make a choice.
Anyway, upon reading the text, I realized that God meant to speak to me of something else, something that I've been pushing to the back of my mind because I find it emotionally draining to even think about. I'm talking about my sister's illness. It's a wonderful message. However, my daughter is up, so I'll have to continue this post later. In the meantime, just keep yourself joyful in the Lord. No matter what adversities may be plaguing you at the moment, think of it as an opportunity to gauge your faith. In our hour weakness, God's strength is more evident than ever. Ciao for now.